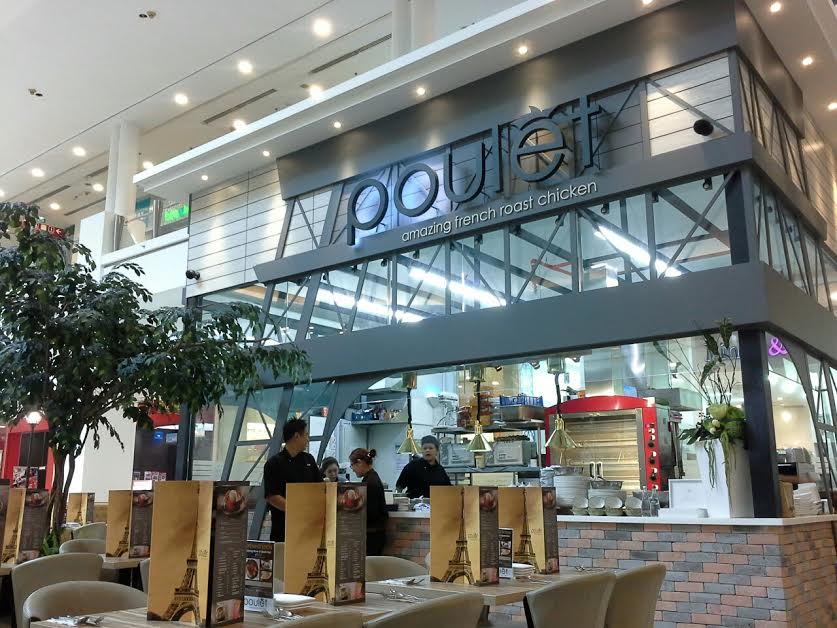 With a façade simulating Paris's iconic Eiffel Tower beckoning you from afar, it is hard not to notice Poulet, a classy, yet contemporary French restaurant that is a gem to have these days amidst the usual French fine dining you will only occasionally indulge, without burning a hole in the pocket. Brought to you by The Minor Food Group, the same people who own Thai Express, Poulet has cleverly positioned itself to be a modern and casual dining place that offers pocket-friendly French classic dishes to the mass in Singapore.
On the Poulet Menu
We like the idea of the menus in longish hardcovers with the Eiffel Tower on it and that the Poulet staff made effort to position all standing upright on every table, so you could see an Eiffel Tower pool across. But we are not the slightest bit disturbed by an Eiffel too many.The menu is pretty much self-explanatory on every leaf, and the range is rather well covered; the entrees, soups, salads, sides, sandwiches, pissaladieres (French pastries), mains, beverages, desserts, etc., are clearly laid out. Don't worry, the menu is unlike a French storybook some restaurants have as if we needed to learn French before we can eat.
Poulet Rotisserie Chicken: Signature Roast Chicken
We ordered their signature Poulet Rotisserie Chicken (Chicken Roti – not the roti bread ok!), for half portion at S$15.90 because, honestly, who wouldn't want to try traditional mushroom sauce with Chardonnay? The matter of wine sauce with chicken per se cuts you back on wine money to pair with the white meat (cheap thrill, but you'll thank me later). The roast chicken meat is really tender, to say the least. The sauce is, in our opinion, O-to-the-M-to-the-G. Mushroom-earthiness meets the kind of exquisite white wine sauce usually made for steamed mussels. Even the back of my skull could sense it and agreed with that equation.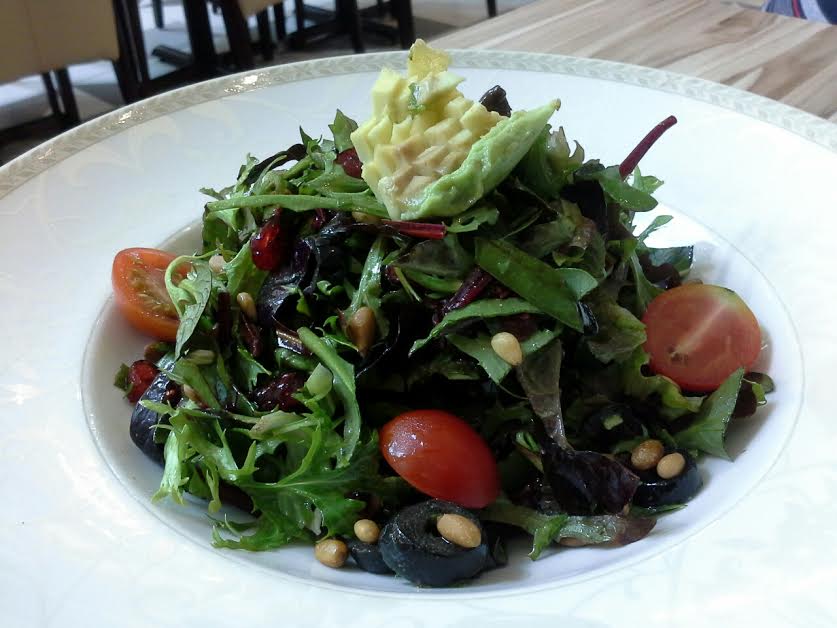 We also had Salad de Paris (priced at S$9.90) which is really delicious. The salad was well tossed in french vinaigrette dressing; if the pine nuts were more roasted and the tomatoes were to be sun-dried instead of fresh, it'll be ridiculously awesome. In our personal spin of this dish, we'd like that charred oakiness from roasted/ toasted nuts and that tangy sweetness from sundried tomatoes to tie in with the dried cranberries so the sweetness from the cranberries wouldn't be too isolated.
We also highly recommend the Smoked Duck Salad (S$13.90) and to finish off your meal with a nice dessert like the Crème Brulee (S$8.90) for a sweet note in making your day.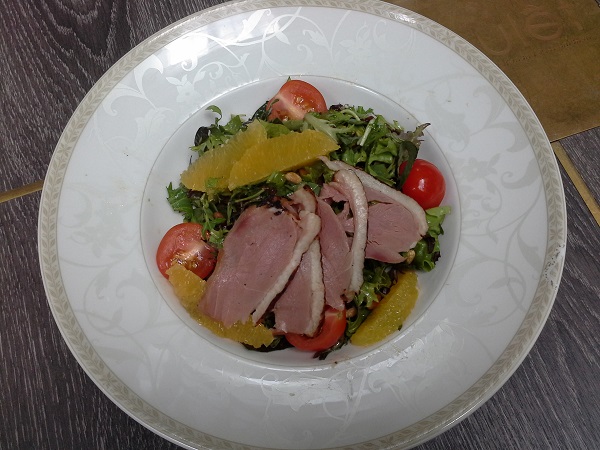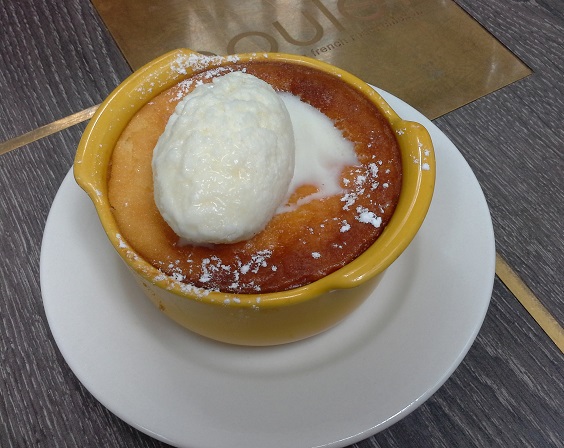 French Bistro Casual Dining
There is really nothing to complain about Poulet. This French Bistro has a setting that is relaxing, yet classy, and a casual, yet neat theme. Romantic street lamps mimicking Parisian sidewalks and reasonably plush seats put you in the French mood, almost.The prices are not overboard and food portions are decent. You don't need restrictive dress code or to be particularly uptight about keeping your kids' movements and voices down, because it is that family-friendly.
Poulet has several outlets around Singapore:
Bedok Mall

311 New Upper Changi Road
#B2-31/32
Singapore 467360
Tel: (+65) 6844 9421

 Bugis+

201 Victoria Street
#04-12
Singapore 188067
Tel: (+65) 6509 9411

Chinatown Point

133 New Bridge Road
Level 2
Singapore 059413
Tel: (+65) 6538 3595

Great World City

1 Kim Seng Promenade
#02-K2/K3
Singapore 237994
Tel: (+65) 6733 4395

Jurong Point

1 Jurong West Central 2
#B1-57/58/59
Singapore 648331
Tel: (+65) 6861 0217

Kallang Wave @ Sports Hub

Opening soon
1 Stadium Place
#01-17 Kallang Wave
Singapore 397628
Tel: (+65) 6702 7342

Raffles City Shopping Centre

252 North Bridge Road
#B1-65/66
Singapore 179103
Tel: (+65) 6336 3119

Vivocity

HarbourFront Walk
#01-175/176/177
Singapore 098585
Tel: (+65) 6376 9087

Westgate

3 Gateway Drive
#01-07 Westgate
Singapore 608532
Tel: 6369 9465