Orchard Gateway's Opening in Singapore
Orchard Gateway, one of the much awaited new Orchard Road malls in Singapore, has finally opened its main retail wing on 12 May 2014, Monday. The official launch was reported to be slated for the fourth quarter of 2014. This retail mall is developed by United Engineers Developments, and is co-owned by both United Engineers Development and Great Eastern Holdings. This newest Orchard Road retail shopping centre to date is sitting on the sites of the old Phoenix Hotel and Specialists' Centre on one block, while the other block occupies the site of the former Orchard Emerald.
New Orchard Road Malls: Orchard Gateway & Orchard Gateway@Emerald
Orchard Gateway comprises of two retail blocks situated across each other and are linked by a pedestrian glass link bridge for inter-accessibility.
277 Orchard Road
The larger and taller block towers at 21 storeys (main retail wing), of which six levels are retail floors spanning an area of 20,800 square metre of retail space, includes multi-storey car park spaces (278 lots), and is completed with an annexed 500-room hotel facility (Traders Orchard Gateway Hotel).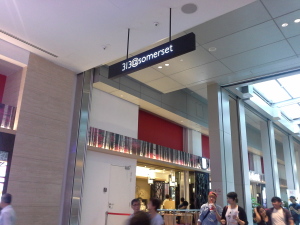 218 Orchard Road
The smaller building, called Orchard Gateway @ Emerald, comprising 7 retail floors of the 22 storeys built, makes up 2,700 square metre of retail space while the rest of the space (3,500 sqm) is for office use. Orchard Gateway@Emerald, the smaller of the 2 blocks, is slated to open in October 2014. The new Singapore Visitors Centre, a 2-storey conservation shop-house building, is joint to this block. Both buildings are linked directly via underground passes to Somerset MRT station at basement levels.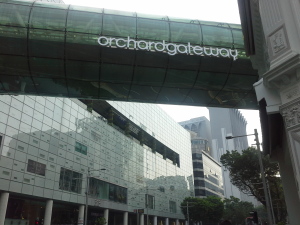 Iconic Overhead Bridge
The iconic glass overhead link bridge, aptly named "Orchard Gateway", spans 53 metres long across the main Orchard Road and is reportedly able to withstand the weight of 900 people at any one time. The tubular steel framed structure that is glass cladded is designed by Kenzo Tange Associates, the same Japanese architectural firm that designed our One Raffles Place (former OUB Centre). The glass link bridge also provides connection from Orchard Gateway to the shopping malls next to it, 313@somerset and Orchard Central.
Tenants onboard Orchard Gateway
More than 90 retail stores and food & beverage outlets make up Orchard Gateway's tenants onboard its 180,000 square feet of retail space, offering an array of exciting products and services in complimenting not only retail offerings but the cityscape as well.Expect multi-label stores such as i.t from Hong Kong and our local Sects Shop that sells Singapore street fashion labels like Not Cool Enough and Antidepressant as well as various cult labels from Korea, Japan and Bangkok. A hybrid-concept store housing a swanky salon amongst edgy clothing Superspace has also made its presence here.
American lifestyle and home furnishing chain store Crate and Barrel will be Orchard Gateway's anchor tenant.
Library@Orchard
Orchard Gateway also boasts a brand new library known as library@orchard to the liking of book lovers, students or young Singaporeans who simply want some quiet reading time or enjoyment of music at the dedicated music booths amidst the glitzy shopping belt. Library@Orchard is due to open on in October 2014, the same time as Orchardgateway@Emerald.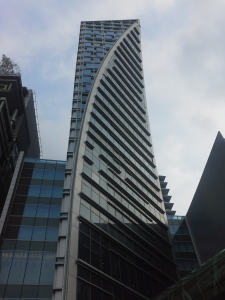 Orchard Gateway Hotel
The Orchard Gateway Hotel, known by the hotel brand name as Traders Orchardgateway Hotel, offers 500 guestrooms on the 10th to 20th storeys of Orchard Gateway shopping centre. Featuring 159 superior rooms, 286 superior rooms with city views, 37 deluxe rooms, and 20 premier 'panaroma' rooms, Traders Orchardgateway Hotel also provides an exclusive club area known as the Trader's Club on the 19th floor that offers panoramic views of Orchard Road. The Trader's Club is complete with a fitness center, private cabanas and an infinity pool. The hotel also offers business amenities and facilities such as meeting and function rooms that are designed to suit a variety of formal and casual occasions.